Gem Rocks is a mining genre based slot game developed by Yggdrasil Gaming. The storyline of Gem Rocks slot game is based on the adventures associated with gentle giants. These giants help the players to make their payouts more worthwhile while hunting for precious gems. In order to make this slot game unique from the other games from the same genre, Yggdrasil Gaming has incorporated some unique features while getting rid of some of the common ones.
This slot comes with a 6×4 format and instead of usual pay-lines have 4096 ways to win. This means that in place of usual pay line structure the payouts are payable by landing similar symbols from left to the right hand side of the reels. As expected from a product of Yggdrasil Gaming, which develops incredible online slot games, the animations used in this game are state of the art and accompanied by a suitable tune which makes it even more convincing. The characters depicted in this game are beautifully designed symbols encrusted with different types of gems.
The six reels of the Gem Rocks slot game are encased in a frame made of rocks and crystals which is further flanked by monster rock meter on the left hand side. This slot can be accessed by using any type of devices ranging from desktops to mobiles.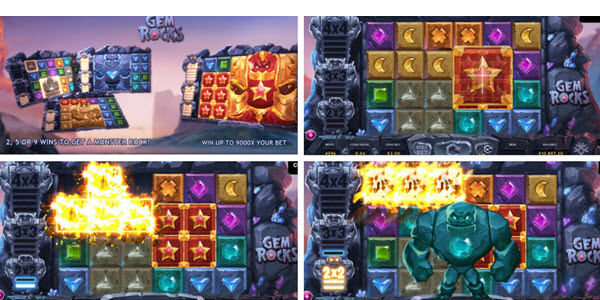 Features of Gem Rocks slot game
The Gem Rocks slot comes with a fixed jackpot of 200x along with other usual features which include auto play and bonus rounds. This slot does not provide any type of gambling options, scatter symbols, wild symbols, free spins or re-spins to its players. The coin limit of this game stands at twenty five coins.
The value of these coins starts at £0.002 and ends at £1.00. The betting range starts at £0.50 and goes all the way up to £50.00.
The high paying symbols of this game include four different types of geometrical designs that include a star, a crescent, a sphere and an inverted triangle.
The other four low ranking symbols are in also in the form of geometrical designs which include a triangle, a square, a diamond and a cross. The star symbols provide the biggest payout for this game in the following ways
Landing six of these symbols awards 250x.
Landing five of these symbols awards 60x.
Landing four of these symbols awards 40x.
Landing three of these symbols awards 20x.
Scatter Symbol: Gem Rocks slot does not provide any type of scatter symbols.
Wild Symbol: Gem Rocks slot does not provide any type of wild symbols.
Return to Player Percentage
The Return to Player percentage of Gem Rocks video slot currently stands at 96.20%

Bonus Rounds of Gem Rocks slot game
Gem Rocks slot game comes with three bonus rounds which include
Dropdown Win
Random 2×2 Large Symbols
Monster Rocks
Dropdown Win: In the Dropdown Win feature, any combination comprising of winning symbols tends to disappear and replaced by new symbols. These new symbols drop down replacing the symbols which are part of a winning pay line. This feature helps in creating new winning combinations. The Dropdown Win feature continues until there is no winning combination.
Random 2×2 Large Symbols: During the base game large symbols in 2×2 format randomly appears on the reels. These symbols are in the form of one of the eight symbols used in this game thus providing the player a chance to hit more wins.
Monster Rocks: When there are subsequent wins happening due to the Dropdown wins feature, the monster rock meter becomes active. After particular numbers of subsequent wins, larger symbols known as Monster Rocks falls on the reel. The size of these monster rocks depends upon the number of consecutive wins in the following ways.
Two successive wins provide a 2×2 monster rock.
Five successive wins provide a 3×3 monster rock.
Nine successive wins provide a 4×4 monster rock.
Larger the size of the monster rock, more area it covers on the reels thus increasing the sizes as well the numbers of payouts. This feature continues to run till there are no more wins. Once this happens, the meter resets itself to its original position.