Alien Hunter slot machine game takes the player straight away to the future where Alien hunting can be a big profession. People interested in such a kind of career can start their training by playing Alien Hunter slot developed by Playtech! This 5 reels 25 paylines progressive jackpot online slot game does not feature scary aliens as depicted in alien movies, it is just an entertaining space themed slot game.
These characters can be described as comical or weird ones but not terrifying in any way. The aliens of this game seem to be the hybrid of different terrestrial animals such as squids and crabs rather than blood curdling creatures from outer space.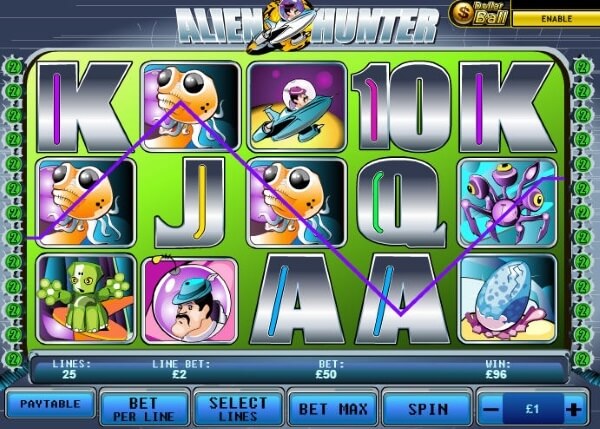 The main character of Alien Hunter is a nameless mustachioed space traveler in search of aliens and prizes associated with them. The graphics of this game are of average quality supported with a soundtrack, generally available in all classic slot machine games.
Alien Hunter Slot Game Features
Alien Hunter has all the usual features which include, bonus round, multipliers, wild symbol, free spins and Dollar Ball Progressive Game, but it does not provide any kind of gambling options. The bet per spin range for this game starts at £0.01 and goes up to £1250. The minimum wagering requirement for this game ranges from £0.01 – £5.00.
Apart from the symbols mentioned above, this game also has other symbols from the deck of cards such as 10, J, Q K and A. A symbol being the highest and the 10 symbol with lowest prizes associated with it in this category.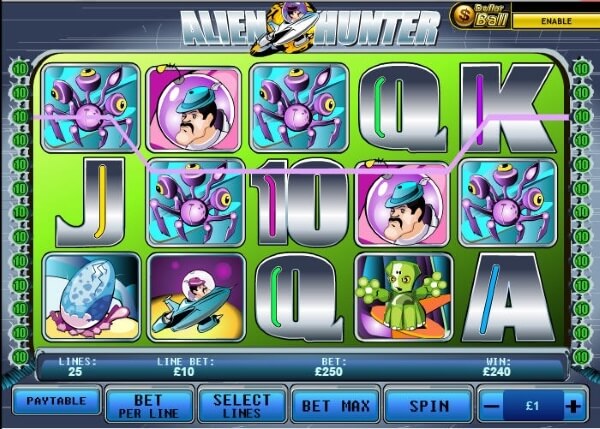 Wild Symbol: Alien in the cage is the wild symbol of this game. It can be substituted for all symbols with an exception to scatter and bonus symbols. This symbol can appear anywhere on the reels and helps in creating winning combinations. Landing five of the wild symbols on the payline awards a jackpot of 10000 coins.
Scatter Symbols: Spaceship symbol acts as a scatter symbol in this game. This symbols acts as a getaway to the bonus round in the form of free spins. Landing at least three of such symbols anywhere on the reels awards five to twenty five spins. Though there is no multiplier provided in the free spins, but a player can retrigger more free spins during the bonus round.
Alien Hunter Slot Bonus Rounds and Free Spins
Apart from being a progressive jackpot slot, this game also provides some extra bonus features such as
Free Spin bonus
Alien Egg bonus
Dollar Ball Progressive Game
Hunting Spaceman bonus
Alien Egg Bonus: This special bonus feature of this game gets triggered when a player lands an alien egg symbol anywhere on the 1st and 5th reels. During the bonus round, players are prompted to click on the alien eggs. Most of these eggs consist of multipliers while there is one egg which can double up the total amount of the wins you have collected by clicking on the other eggs.
Clicking on the evil "headjumper" alien egg can lead to the end of the bonus round. If player clicks on this evil egg on the first try, he or she is awarded with a consolation prize.
Hunting Spaceman Bonus: This bonus round gets triggered when at least three Egg Bonus symbols land upon the middle three reels. In this round the player has to click on the appearing aliens in order to collect different prizes. This bonus round provides two choices in the form of "Skill" and "Luck" categories.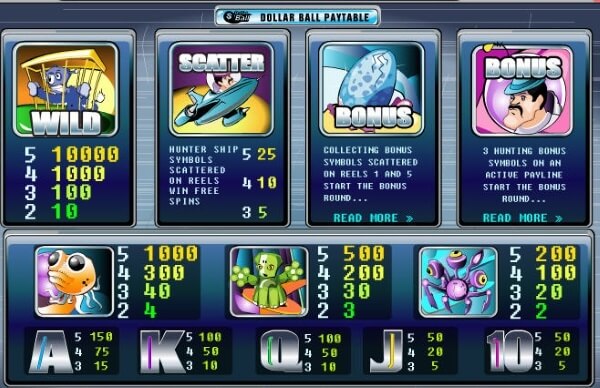 Skill Category: Player must catch six aliens within a limited time period of fifteen seconds. The worth of the prizes depends upon the quality of aliens caught by the player. Some of the aliens are quicker than their counterparts and these ones are worth more. A consolation prize is also there if you are not able to catch any of the aliens.
Luck Category: In this mode, the aliens are slower as compared to the ones in Skill category. There is no time limit, but the win size is awarded randomly.
Dollar Ball: In order to participate in this lotto type progressive jackpot, a player must click the "Enable" button provided above the reels. It must be kept in mind that each bet during this bonus round will be little bit costlier than the base game. Player has to choose any 5 numbers out of 49. Once the main game starts, five numbers are randomly generated.
Landing five correct numbers awards a jackpot while generating four will award you with one percent of the jackpot.