Bermuda Triangle Slot Game is inspired by Bermuda Triangle which is a loosely demarcated area in the western part of the Atlantic Ocean which is known for mysterious disappearance of airplanes and ships. This area is also known as Devil's Triangle.
The most common reason attributed for this sudden vanishing of such large objects is of paranormal activity accredited to the aliens from the outer space. The other explanation ascribes this phenomenon to the mythical, lost city of Atlantis.
Whatever the reason may be, no one till now has been able to explain the exact science behind the strange happening in this area. Even though stories may have been exaggerated and eagerly believed by the gullible people, this mysterious area has a good potential to be a great theme for an online slot machine game. This may be the underlying reason for Playtech to develop Bermuda Triangle slot game.
Graphic Design of Bermuda Triangle Slot Game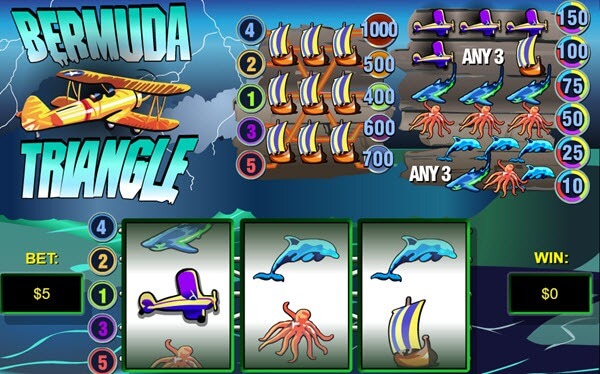 Bermuda Triangle Slot Game is basically a simple slot machine game which is quite reminiscent of classic slot games available in land casinos during the 60s. In order to keep this slot very simple only five paylines have been dedicated to this game. The backdrop of this slot game is constituted from a stormy oceanic scene with a plane facing the brunt of gale and presumably on its way to another world.
The soundtrack is similar to a sonar signal used by a submarine which is quite basic and appropriate for a vintage slot machine game.
Bermuda Triangle Slot is a medium variance game with Return to Player percentage of 96.73 percent which makes it suitable for all types of players.
The RTP for the Bermuda Triangle Slot Game is 96.73%
Features of Bermuda Triangle Slot Game
Bermuda Triangle Slot Game comes with a base jackpot of 1000x along with an autoplay and a game feature. It does not provide any kind of bonus round, free spins, wild symbol, scatters, multipliers or gambling options.
The maximum coin limit for this game is set up at five coins. The coin range for this game starts at £0.05 and goes up to £5.00. The bet per spin for this game ranges from £1.00 – £25.00. The five symbols used in this game include a shark, octopus, dolphin, sail boat and an airplane.
This game provides an excellent interface to its players. There are not too many complicated paylines to memorize and controls of this game are quite basic. All the buttons required to be used during the game are situated near the reels. These buttons include Bet, Spin and Bet Max. Autoplay is provided in the options section of this game.

The sailing boat is the most valuable symbol of Bermuda Triangle Slot Game. The lowest prize can be won by landing any of the three symbols of whale, octopus, and shark on an active payline. More substantial prizes can be earned by landing three symbols from each oceanic giant.
In order to land the top prize, a player must bet up to the maximum limit and land three sail boat symbols on the fifth line. Betting with maximum amount allowed in this game can earn up to £ 125000 in the form of a base jackpot.
Auto Play feature: This feature allows the player to hunt for the jackpot in order to make multiple bets in short period of time. This means that you can keep on spinning even while visiting other web page or indulging yourself in other online games.

Bermuda Triangle online slot game is not designed for the player with a short attention span as one could get bored due to the lack of features such as wild symbol, free spins, bonus games, scatters and multipliers available in other games of the same genre. This slot has the potential to pay what you see and if you want something more cheesy and complicated then this game is not what you are looking for.
More Slots by Playtech
Κράτα το