Year of 2012 was the hallmark year for Playtech as they released some of the greatest online slot machine games of their time which also included The Mummy slot game. This slot game is based on the super hit Hollywood movie of the same name release in the year 1999 starring Brandon Frasier and Rachel Weisz. The story line of this movie moved around a librarian cum archaeologist, Eve, who embarks upon a journey which takes her to mystical lands in Egypt in search of Pharaoh's treasure. She is accompanied by her brother and an ex-French legion soldier Rick O'Connell (Brandon Frasier) and they end up in an adventure where they have to face the wrath of a mummy of the priest who wants to reincarnate his dead love, Anck-su-Namun. It was a block buster movie and kept audience spell bound wondering what will happen in the next scene.
Main Characteristics of The Mummy Slot
Playtech was able to sustain the magic of that movie in the slot game which they released in 2012. This 5 reels and 25 pay-lines slot machine game with its six bonus features is still considered one of the top ranking games in the online slot gaming circle. The Mummy slot game includes all the common features of the slot machine games available today. This game has features like free spins, auto play, multipliers, bonus round and wild symbols. This game does not have any gambling options for the players. The minimal wager for this game starts at 0.05 and goes up to 1.00. The maximum coin limit for this game is pegged at a single coin.
The Mummy has a return to player percentage of 91.94%
Bonus and Free Spins
Bonus Feature and Wild Symbols: As mentioned at the start of this article that The Mummy slot machine game has six bonus features which includes Collapsing Reels, Scorpion Scatter, Expanding Mummy, Scarab Attack, Mummy Power and a respin bonus in the form of Mummy Respin. This game also has a unique feature of showcasing some of the poignant scenes from the movie itself which are unlocked when a player hits a combination of winning numbers. The symbols of this game includes majority of characters from the movie itself such as Eve, Rick O'Connell, the Mummy, Anck-su-Namun and so on. The wild symbol of this game is the symbol of the Mummy which appears on the central reels. This wild symbol can be substituted for any other symbols except the scatters.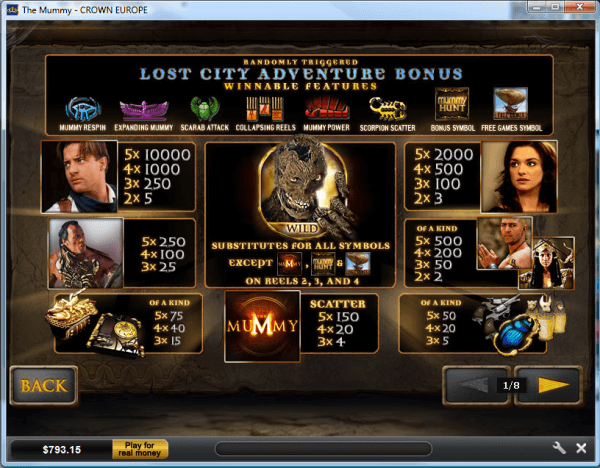 Other Features: the other two features which are quite fruitful for the players are free game feature and Mummy Hunt Bonus. The scatters symbols for this game are logo of The Mummy game. Hitting more than five of these scatters provides the players a chance to increase their winning by twenty times. If a player hits four scatters, the total amount of winning are increased by four fold.