One of the most important factors associated with online slot games is Luck and Playtech has taken this into account while designing Streak of Luck slot machine game. As the name suggests this game incorporates all the traditional symbols associated with good luck such as ladybirds, porcelain waving cats (Maneki Neko), Chinese coins, horseshoes, ladybug, four-leaved clover, acorns and many more. Streak of Luck slot is designed in a very simple format with five reels and fifty fixed pay-lines. The most attractive features of this game are its bonus feature and progressive jackpot which can provide the player a chance to win big. Streak of Luck is comparatively different from other five reel slot games due to its unique design which incorporates 4 horizontal rows of symbols instead of 3 rows. This extra row along with five reels provided in this game increases the chances of creating more winning combinations.
Streak of luck slot game symbols and scatters
Streak of luck has a progressive jackpot along with all the usual features which include auto play, bonus round, free spins and base game jackpot of 1000x but it does not provide any kind of multipliers or gambling options. The maximum coin limit for this game is set up at twenty coins. The coin ranges for this game start at £0.01 and goes up to £1. The minimum wagering requirement for this game ranges from £0.01 – £50.00. Apart from the symbols mentioned above, this game also has other symbols from the deck of cards such as 9, 10, J, Q and A. The other special symbols in this game include Playing Cards as scatters, Dice for bonus and Lady Luck as the wild symbol.
Wild Symbol: Lady Luck can be substituted for all symbols with an exception to scatter and bonus symbols. This symbol can appear anywhere on the reels and helps in creating winning combinations. Apart from being most valuable symbol of this game, Lady Luck can allow a player to win a separate payout if this symbol lands two or more times on a payline. This payout is paid out to the player in case the win amount of the regular symbols is smaller than the former.
Scatter Symbols: Although a set of four playing cards act as scatter symbols but it not a part of the bonus feature provided in this game. A player can rake in a payout of 3x, 10x and 50x if he or she is able to land 3, 4 or 5 of them anywhere on the reels.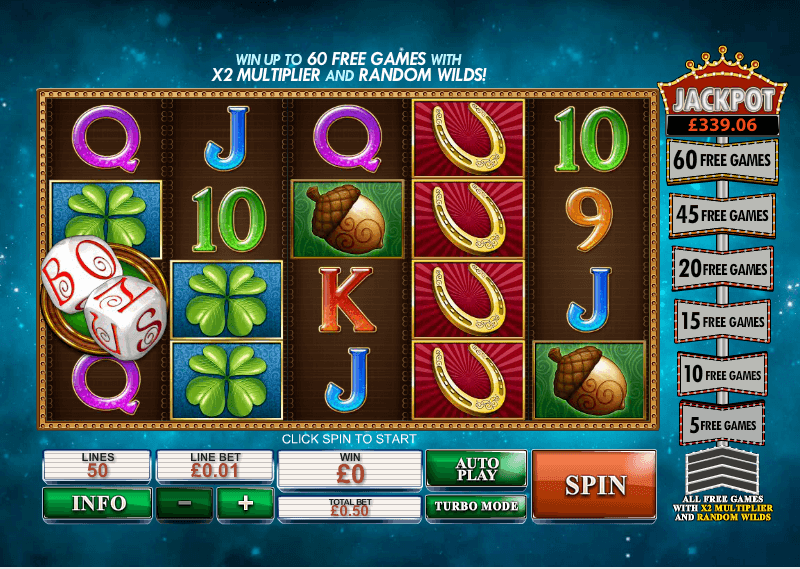 Streak of Luck Free Spins and Bonus Rounds
This slot machine game rewards its player for landing successive wins in the form of additional free spins and addition of two random wilds to the reels with each spin. If a player is able to land nine in a series then a third wild symbol also gets added to the reels thus increasing the chances of hitting a winning combination.
The free spins are provided in the following pattern
5 free spins with 2x multiplier and 0-2 random wild symbols per spin for 4 wins in series

10 free spins with 2x multiplier and 0-2 random wild symbols per spin for 5 wins in series

15 free spins with 2x multiplier and 0-2 random wild symbols per spin for 6 wins in series

20 frees spins with 2x multiplier and 0-2 random wild symbols per spin for 7 wins in series

45 frees spins with 2x multiplier and 0-2 random wild symbols per spin for 8 wins in series

60 free spins with 2x multiplier and 0-3 random wild symbols per spin for 9 wins in series
Progressive Jackpot
Progressive jackpot is awarded if a player is able to land ten winning spins in a succession. After completion of nine successful spins, the player is helped by providing additional wild symbol along with the other two already present on the reels.
Dice Bonus
Dice bonus is triggered when dice symbol appears on 1, 3 and 5 reels during the base game or free spins. The player is allowed three rolls of dice and the numbers depicted on the faces of two dices are totaled together and multiplied by the wager made by the player.
Extra bonuses also include
Extra spin if a double (example two 3s, two 6s, etc) is rolled.

20 times payout for landing sevens two times in a row.

200 times payout for landing sevens three times in a row.