Life of Brian Slot Game! After the great success of the Spamalot slot game, Ash Gaming ( Playtech's subsidiary) created another Monty Python slot game, this time based on the very classic Monty Python film, The Life of Brian. Life of Brian is without a doubt on of the best online slots that has recently been released.  For anyone that hasnt watched The Life of Brian movie is about a young Jewish man named Brian, who was born on the same day and just next door to Jesus, and he is therefore subsequently mistaken for the messiah.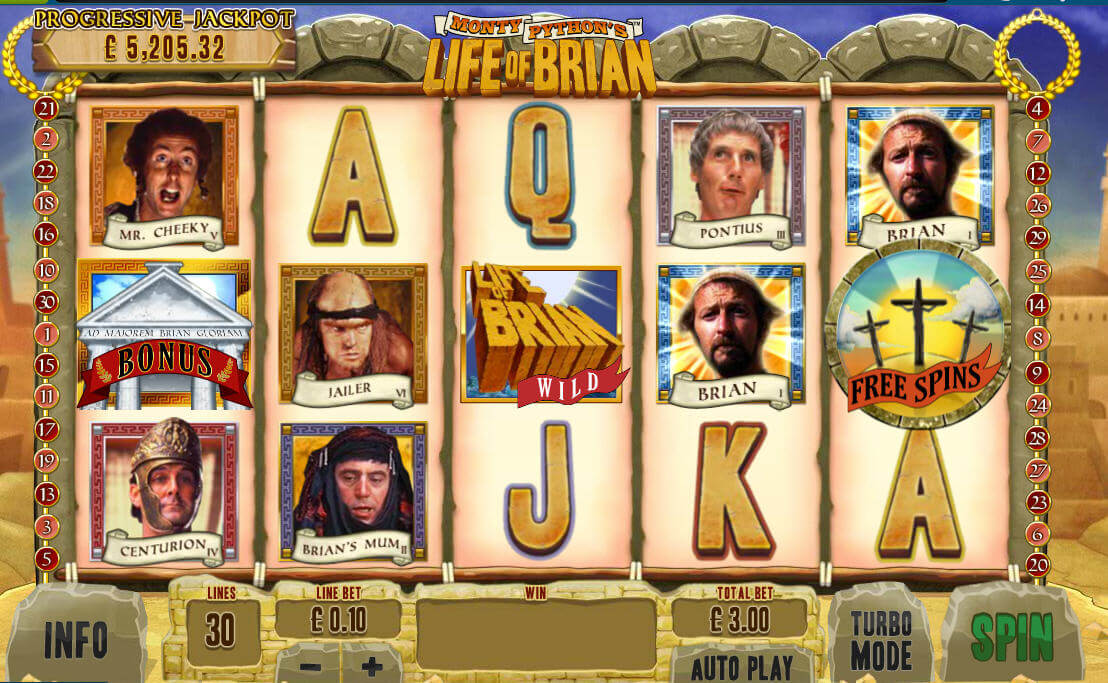 The Life of Brian Slot is a 5 reel and 30 paylines slot machine game full of wilds, scatters, free spins, bonuses and a progressive jackpot.
The slot game has images from the actual film spinning on the reels like Brian, Pontius Pilate, Brian's Mum, the Laughing Centurion, the Jailer, and Mr. Cheeky. If you are lucky enough to land 5 Brians then you can win 1,000X multiplier on your line bet. The wild symbol is the game's logo and then there are two bonus symbols – a temple and the crucifixes – which kick off loads of features
Life of Brian Slot Bonus Rounds
Life of Brian slot game is full of slot bonus rounds!
When you hit 3 scattered Temple symbols on reels 1, 3, and 5 you win the Life of Brian bonus where you will spin a wheel to determine the next bonus games to play. There are 4 games that you can play during this round,and these are
The Stoning bonus where you will have to pick someone from the line-up to stone! If any women are present,you can win extra cash prizes.
The People's Front of Judea bonus where you will choose from Roman innovations like irrigation and aqueducts to win more money.
The Romani Ite Domum bonus where Brian gets a Latin lesson from a scary looking teacher and protests by painting dissenting slogans on the wall. Help Brian paint as many slogans as possible before the Roman soldiers return at dawn win cash payouts.
The What's so Funny bonus where you can choose a guard that has to last without laughing as Pontius Pilate talks. The more time he lasts the more you win!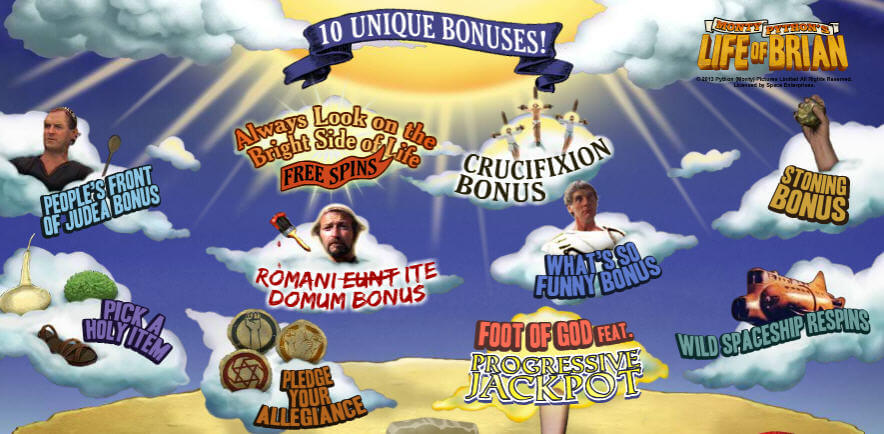 More Life of Brian Slot Bonus Rounds
There is also the Always Look on the Bright Side of Life Free Spins bonus that you will automatically activate when you get the Crucifixion symbols landing on reel 3, 4, and 5. If you manage to get 3 scatters during the Free Spins mode, then you will activate another bonus round known as the Crucifixion bonus, in which you will be required to pick Crucifixes to retrigger the spins or win a cash prize.
The Monty Python Foot of God slot bonus will randomly step on the reels and will give you the chance to pick a holy item in return for cash prizes. The Foot may also award the progressive jackpot!
Finally, another bonus feature at the Life Of Brian Slot is the Wild Spaceship Re-spins which occurs after a losing spin. In order for this bonus feature to be activated you will need to see Brian fall through the reels and finally get caught by a spaceship! When this happens one stack of symbols will turn wild and your respins will start until you win!