History of Chicago is filled with those instances when mobs ruled the streets. There are many names associated with the organized crimes which include infamous personalities like Al Capone, Bugs Moran and Papa Johnny. These were the original godfathers who ruled their territories with iron fist while dealing in all nefarious activities related to the prohibition era.  Net Entertainment has used this idea related with gangsters to develop Kings of Chicago slot game.
The design and game play of this game is quite unique in itself as the developer has incorporated the rudiments of poker into this game to make it totally different from the other games of the same genre.
The game play of Kings of Chicago, which is a five reels and five pay lines slot game, involves playing on a poker table rather than spinning the reels. The poker table is surrounded with different things such as scotch glasses, cigars, guns and wads of cash. Instead of a rolling reel, this game involves cards being dealt to the player.
Features of Kings of Chicago slot game
Kings of Chicago slot game comes with the usual features which include auto play, bonus round, scatters, multipliers, free spins and wild symbols. This slot does not provide any kind of gambling options.
The coin range starts at £0.01 and goes up to £11.00. The minimum wagering requirement for each spin starts from £0.50 and ends at £50.00. Instead of a combination of symbols acting as a payable pay line, this game pays out in the form of poker hands. Higher the ranking of the hand, bigger are the pay outs. The payouts related with these poker hands include the following.
Landing Natural Royal Flush pays out 10000 coins.
Landing Five of a Kind pays out 1500 coins.
Landing Royal Flush pays out 1000 coins.
Landing Straight Flush pays out 250 coins.
Landing Four of a Kind pays out 75 coins.
Landing a Full House pays out 50 coins.
Landing a Flush pays out 25 coins.
Landing a Straight pays out 7 coins.
Landing three of a kind pays out 2 coins.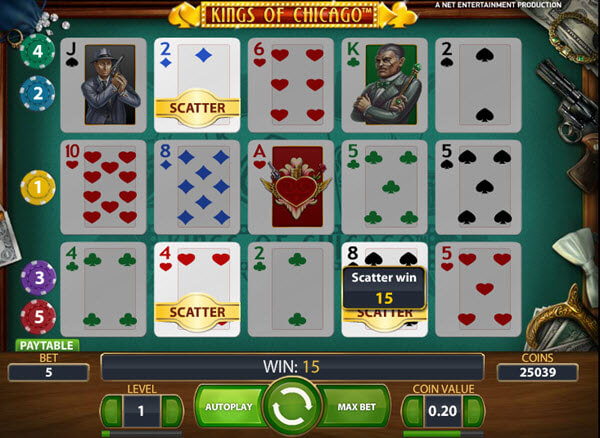 Scatter Symbol: Picture of a mafia boss on the King Card acts as a scatter symbol for this game. These symbols can appear randomly, anywhere over any of the cards. Landing three or more of these symbols on the screen activates the Free Deals. A number of free deals plus cash prizes for landing three or more scatters are provided in the following way.
Landing five of the scatter symbols pays out 500 coins plus 30 Free Deals.
Landing four of the scatter symbols pays out 50 coins plus 15 Free Deals.
Landing three of the scatter symbols pays out 15 coins plus 10 Free Deals.
Landing two of the scatter symbols pays out 5 coins.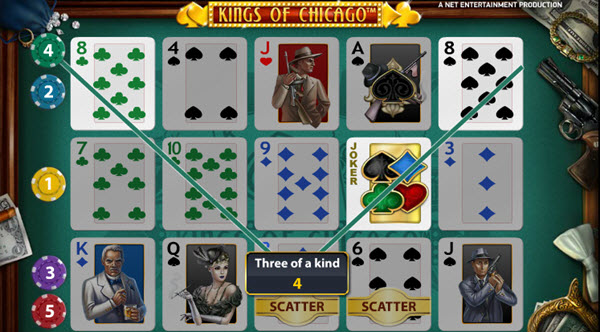 Wild Symbol:. It can be substituted for all other symbols. This symbol can appear anywhere on the reels and helps in creating winning combinations. All the wins which involve the wild symbols get doubled (X2)
Return to Player Percentage
The Return to Player percentage of Kings of Chicago video slot currently stands at 97.80%
Bonus Rounds of Kings of Chicago slot game
Kings of Chicago slot game comes with only one bonus round in the form of Free Deals.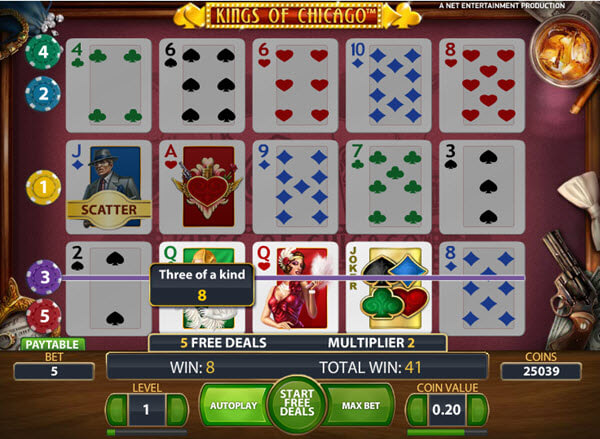 Free Deals: As mentioned earlier in the Scatter Symbol section, landing three or more of the scatters anywhere on the screen activates the Free Deal bonus round. Free Deal bonus round provides different number of free spins, depending upon the number of scatters landed on the screen highest being, 30 free deals on landing five scatters. Free Deals are played using the same amount of wagers being used for the round that activates the Free Deal bonus round. All the bet lines during the Free Deals get double. More Free Deals can be activated by landing three or more scatters in the bonus round.