Jingle Bells slot game is a classic casino style online slot machine game developed by Microgaming in 2006. Even though it has been a decade since this game arrived in the market but still it is one of the most favored game by those players who like to play simple games without complication of too many pay-lines. As the name suggests, this is a Christmas themed game with three reels and only five pay-lines. Interested players can access this game by either using flash platform provided by Microgaming or by downloading the secure version of this game from a casino or online slot site.
Jingle Bells slot game is a lovely imitation of slot machine games available in land based casinos. This game is designed for those people who like to play simple slot machine games especially in the holidays. The developer of this game has not only opted to copy the graphic design of a real slot machine game but has also added some extra elements to make it suitable for online playing.
As it is designed as a basic slot machine game, Jingle Bells does not have bonus rounds which are offered in other games of the same genre. Being a Christmas themed game, the highest paying symbols used in this game are related with the festive season and consist of Christmas bells and mistletoe. The other symbols include single bar, double bars, triple bars and Red 7.
Salient Features
Features of Jingle Bells slot game
Jingle Bells slot game comes with a base game jackpot of 6000 coins without the usual features available in other games such as auto play, bonus round, scatters, free spins, multipliers or gambling options. The maximum coin limit for this game is set up at twenty five coins. The coin range for this game starts at £0.25 and goes up to £5.00. The minimum wagering requirement for this game ranges from £0.25 – £25.00. Christmas Bells covered with the holly are the wild symbol of this game.
Wild Symbol: Christmas Bells can be substituted for all symbols. This symbol can appear anywhere on the reels and helps in creating winning combinations. Apart from being most valuable symbol of this game, Christmas Bells allow a player to win a separate payout if three of such symbols land on certain pay-lines. The highest award for such active play lines stands at 6000 coins and the lowest one at 1000 coins.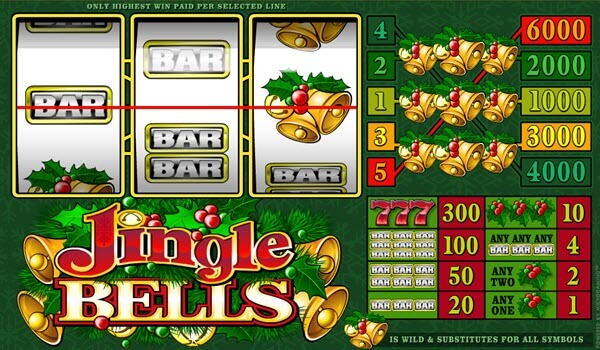 How to Play
Playing Jingle Bells slot game is very simple. All that is required from a player are a few clicks to select the size of the coin, place a bet and start the spin. The game matrix constitutes of three reels and a total of only five pay-lines. If a player is able to land one or more winning combinations as per these pay-lines, the prize money associated with these lines is paid.
If you want to try out something more adventurous then opt for Bet Max option. This option will activate all the pay-lines. This bold but risky option is recommended for only those players who want to hit the jackpot of this game rather than playing with bits and pieces.
The other great option provided in this game is its Auto Play feature. This feature puts the game in the autopilot mode so that you do not need to select coin size or bet size for each spin. This option places your bets on multiple spins consecutively.
The pay table of Jingle Bells slot game mostly consists of three identical symbols on a pay-line which reward up to 300 time your stake value. The highest paying symbol is the Red 7 combination while the least one consists of a single mistletoe landing anywhere on the reels.