Today majority of the online slot machine games are based on movies, serials or comic book heroes. To find a game based on one of the classics of English literature can be quite refreshing if you want a break from the present quality of slot machine games. Ghosts of Christmas slot is one of such online slot games. This game is a product of Playtech, one of the top ranking online slot game developers of the world.
The Ghosts of Christmas is based on the classic novel written by Charles Dickens called "A Christmas Carol". The main protagonist of this game is a rich miser named Ebenezer Scrooge. The story revolves around his experience on a night before Christmas Eve when he is visited by ghosts of Christmas Past, Present and Future (yet to come). His interaction with these ghosts revives his memories of the past and a visit to the future changes Mr. Scrooge from a skinflint to a benefactor and a gentleman.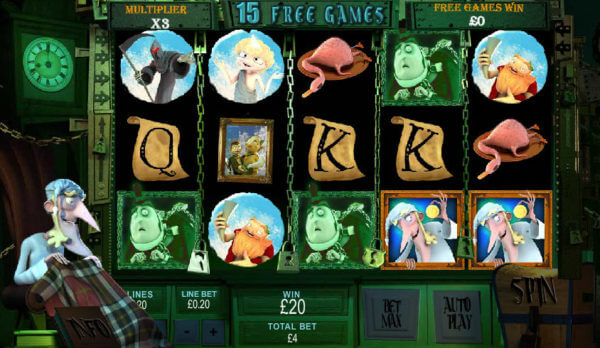 Majority of the characters from the novel have been used as the symbols for this game. Playtech has designed this game to impart a Victorian look to the backdrop of this slot; still most of the symbols are in the form of cartoons.
The main symbols used in this game include Ebenezer Scrooge, Jacob Marley, clock, Tiny Tim and Bob Cratchet (together), plucked goose, ghost of Christmas Past, ghost of Christmas Present and ghost of Christmas yet to come (Grimm Reaper).
Ghosts of Christmas Slot Game Features
Ghosts of Christmas slot is five reels and twenty pay-lines video slot that comes with all the usual features which include auto play, bonus round, free spins, multipliers, scatters and wild symbols but it does not provide any kind of gambling option. The maximum coin limit for this game is set up at twenty coins.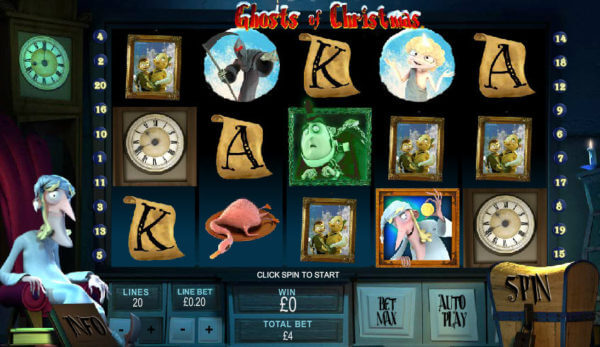 The coin range for this game starts at £0.01 and goes up to £20.0. Bets can be made from £0.01 to £1000 in this game. Apart from the symbols mentioned above, this game also has other symbols from the deck of cards such as K, Q and A. The other special symbols in this game include Jacob Marley as scatters, clock as bonus symbol and Ebenezer Scrooge as the wild symbol. You can win the jackpot of this game if you can land five of the wild symbols on all of the five reels.
Ghosts of Christmas Slot has a theoretical  RTP of 92.33%
Wild and Scatter Symbols
Wild Symbol: Ebenezer Scrooge can be substituted for all symbols with an exception to scatter and bonus symbols. This symbol can appear anywhere on the reels and helps in creating winning combinations. Apart from being most valuable symbol of this game, Ebenezer Scrooge allows a player to win a separate payout if this symbol lands two or more times on an active pay-line.
Scatter Symbols: Landing two scatter symbols on an active pay-line can award you with a small prize but if you land three or more of them then you can activate up to 15 free spins with a multiplier of 3x.
Ghosts of Christmas Bonus Rounds
Free Spins
Once three or more scatter symbols get landed on the play-line, the player is encouraged to click on one of these scatter symbols in order to determine the number of free spins to be issued. The most amazing thing about these free spins is that you can regenerate more free spins by landing three or more scatter symbols on an active pay-line thus increasing your chances to win big.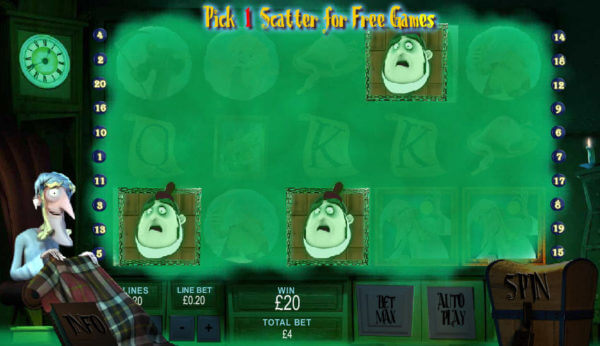 Ghosts of Christmas Bonus Round
The Ghosts of Christmas bonus round is triggered when three or more bonus symbols land on an active pay-line. Once the bonus is activated, the player is presented with a separate scene hosted by one of the ghosts.
The Ghosts of Christmas past allows the player to select a number of books with different prizes; the Ghost of Christmas present offers a collection of gifts to select from and the Ghost of Christmas yet to come comes with prizes disguised in the form of six tombstones. A player is provided with a certain number of picks for these cash prizes depending upon the number of bonus symbols landed on the pay line.