Majority of the online slot machine game enthusiasts are familiar with Flowers slot machine game developed by NetEnt as it is one of the most popular games played around the world. In 2015 NetEnt introduced Flowers Christmas Edition Slot Game for the holiday season and now again when Christmas is just around the corner it is time to indulge in festivities with your favorite loony flowers once more.
Flowers Christmas Edition Slot Game is just the same old Flowers slot game with its eccentric but cute sound effects, flowers with questionable disposition and same features, but with a hint of Christmas spirit everywhere. It is still five reels and thirty pay-lines slot machine game which pays out a prize for landing at least three symbols on an active pay line.
The best feature of this game is Doubles Symbols. These symbols are in the form of pairs thus they act as two symbols when landed on a pay line. This cool feature allows the player to have up to 10 matching symbols on the same line. Not only the flower symbols are provided in pairs, the free spin symbol featuring Happy Cloud is also available in this form. In this feature one symbol box shows a pair of the same symbol thus creating more pay lines.
This game has still got all those crazy flower characters in the form of Angry Red Rose, Happy Sunflower, Snarling Venus Fly Catcher, Introvert Tulip and a Drunk Bluebell.
Features of Flowers Christmas Edition Slot Game
Flowers Christmas Edition slot game has a jackpot of 75000 coins along with all the usual features which include auto play, free spins, wild symbols and multipliers but it does not provide any kind of scatters or gambling options. The unique features of this game are Double Symbols and Stacked Wild Symbols.
The maximum coin limit for this game is set up at twenty coins. The coin range for this game starts at £0.01 and goes up to £0.50. The minimum wagering requirement for this game ranges from £0.30 – £75.00. Apart from the symbols mentioned above, this game also has other symbols from the deck of cards such as J, Q, K and A. The other special symbols in this game include Santa Snow Flake as the wild symbol and Happy Cloud as the free spin symbol.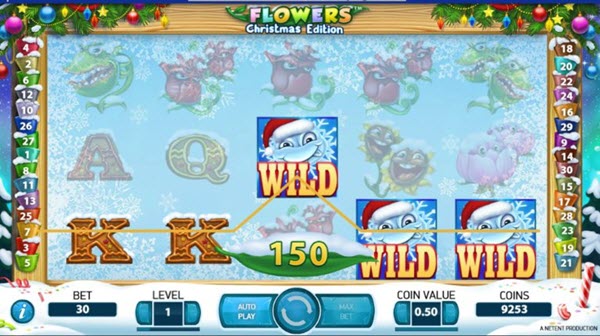 Wild Symbol: Santa Snow flake can be substituted for all symbols with an exception to free spin and double symbols. This symbol can appear anywhere on the reels and helps in creating winning combinations. Apart from being most valuable symbol of this game, Santa Snow Flake can allow a player to win a separate payout if this symbol lands three or more times on an active payline. Landing five of these symbols on an active pay-line comes with a prize of 5000 coins. Stacked wild symbols can also appear during the free spin feature. These symbols can get fixed on the reels till the end of the free spin round thus providing you with more chances to win big.
Free Spins at Flowers Christmas Edition Slot Game
This slot machine game rewards its player for landing at least three of the Happy Cloud free spin symbols on a pay line with 2x multiplier of the stake value. Landing more than three of these symbols provides not only bet multiplier but also free spins. Landing more than three Happy Cloud symbols provide following number of free spins and multipliers
Landing four Happy Clouds provides 2x multiplier and 10 free spins.
Landing five Happy Clouds provides 2x multiplier and 15 free spins.
Landing six Happy Clouds provides 2x multiplier and 20 free spins.
Landing seven Happy Clouds provides 4x multiplier and 25 free spins.
Landing eight Happy Clouds provides 10x multiplier and 30 free spins.
During the free spin round, landing four or more of Happy Cloud symbols further activates more free spins.