Winnings of Oz is a 5 reel, 25 payline progressive casino slot game based on the 1939 cult classic film -the Wizard of Oz which is was adapted from L. Frank Baum's novel, The Wizard of Oz. the setting of the Winnings of Oz slot game is on a path leading to the Emerald City. The slot game has amazing 3D graphics coupled with superb sounds that offer you a truly magical gaming experience. You will find familiar symbols and characters displayed on the reels, these include Dorothy, the Tin Man, the Scarecrow, the Lion, the Yellow Brick Road, the Tornado, the Wizard, and Dorothy's slippers.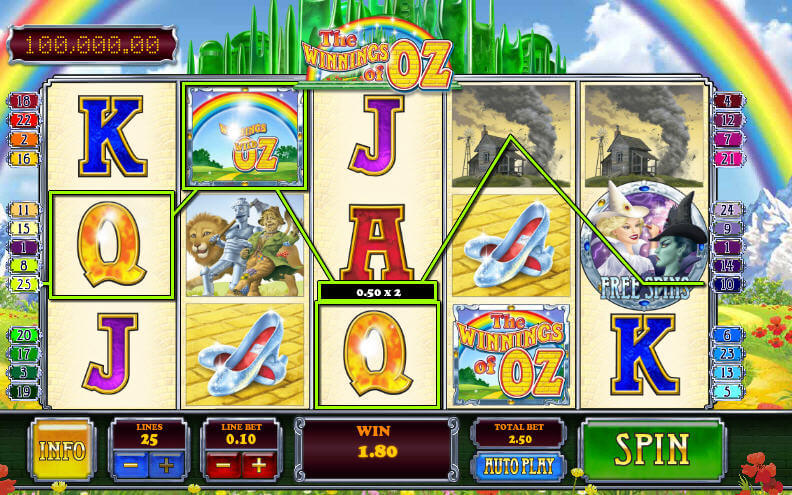 This slot game has various bonus features, activated by the following symbols; the good and bad witches, the yellow brick road and the Emerald City. The wild symbol is the Winnings of Oz logo and it doubles your winnings when it appears in a winning combination. Reel five also has a bonus symbol- the wizard.
The maximum bet is 1,000 credits per spin. The maximum number of paylines is twenty five. Each payline has a coin value ranging from 0.01 to 40.  Dorothy is the highest paying non-progressive symbol. Five Dorothy symbols appearing on an active payline wins you a standard jackpot of 1,000 coins.
The Winnings of Oz Slot Game has an RTP of 94.00%
Winnings of Oz Slot Bonus rounds
Yellow Brick Road Bonus Round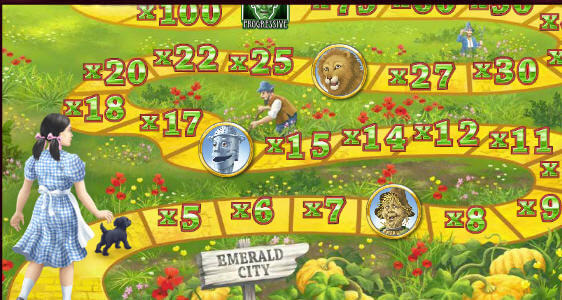 This bonus round is activated by the yellow brick road symbols on reels one, three and five. You will get to spin the wheel in order to move along the path, collecting increasing multipliers as you advance. Collecting your companions along the way will add to your total winnings. This bonus round will come to an end when you spin 'collect' on the wheel. However, if you manage to make it to the emerald city, you will get to play another bonus round- the Wizard Bonus, which we will discuss next.
Wizard Bonus Round
This feature is activated by either landing the yellow brick road symbols on reels one and three or making it to the end of the path in the Yellow Brick Road bonus round. You will be given a number of coins and all you have to do is collect up to 4 so as to win. If you manage to collect a character, you will be awarded an extra bonus when you complete this round.
Free Spins Bonus Round
This bonus round offers you unlimited number of free spins and is triggered when the witch symbol appears on reels two, four and five. You have to collect five wicked witch symbols in the basic spins so as to advance to the super spin. Good witches symbols collected in the basic spins will be displayed on the reels for the Super Spin up to a max of ten (and never less than two).

Progressive Jackpot
You can win the progressive jackpot by
Collecting all characters in the Yellow Brick Road bonus round and making to the Emerald City
Collecting all the characters in the Wizard Bonus feature
Landing on the progressive square on the Yellow Brick Road (only appears when you wager a lot of cash)
Where to play the Winnings of Oz Slot Game